It's been a really long while since I made a tutorial (it's been over a year! o__o) so I thought I might as well do it. Not too glad about the sharpening, but you guys can fix it after the initial colour correction. Anyway, here you go.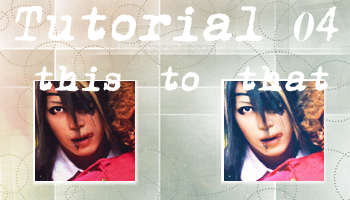 So we're gonna start with the cropping. Yay, crop.




You're going to add a Curves Layer. . .
→ Layers → New Adjustment Layer → Curves
RGB: In- 151 , Out- 100





Fill Layer
→ Layers → New Fill Layer → Solid Colour → ald5ee
Blending option; Soft Light, 50%



Selective Colour Layer
→ Layers → New Adjustment Layer → Selective Colour
-Red: -31, -21, 11
-Yellow: -41, -29, -29
-Magenta: -29, 23, 25
-White: -39, -29, -25
-Neutral: 14, -8, -15




Duplicate the Selective Colouring layer
Opacity, 50%

Merge Visible




Duplicate Background Layer; put Gaussian Blur
→ Filter → Blur → Gaussian Blur → 1.5x
- Blending option: Overlay, 40% opacity

Merge Visible (again)



Duplicate layer, sharpen
→ Filter → Sharpen → Smart Sharpen → Settings: Default, Amount 40%, Radius 3.4 pixels, Remove Gaussian blur → 40% Opacity
!! I just recently found out about Unsharp Mask which is much more amazing than Smart Sharpen will ever be. I prefer Unsharp Mask over Smart Sharpen, but this icon was made before I figured out about Unsharp Mask. If you have Unsharp Mask, use it! |D




WATCH? | AFFILIATE? | REQUEST?
As always, feel free to make your own changes and don't be afraid to experiment. This is just a basic guideline!